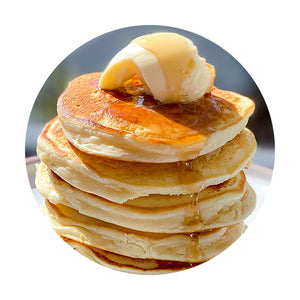 New 1 kg (2.2 lb) size now available!
Connaisseur's buttermilk pancakes will impress because they truly taste home made. Carefully blended, our pancakes are light, fluffy, creamy in texture and beyond compare.
Cooking Instructions:
Preheat griddle to 350F (medium heat); lightly grease griddle.
Place 1 cup mix & ½ cup cold water into a bowl. Whisk pancake mix & water to a smooth batter. Let stand 15 minutes.
Batter will thicken; gently knock back with whisk.
Pour slightly less than ¼ cup batter per pancake onto griddle
Let cook 1:45 – 2 minutes on each side or flip when edges appear dry.
If batter is too thick, add some water
Yields: 5 – four inch pancakes
Our 2 kg (4.4 lb) bag yields: 80 – four inch pancakes

Our 1 kg (2.2 lb) bag yields: 40 – four inch pancakes

Ingredients:
Wheat flour • Buttermilk powder • Sugar • Palm oil powder (contains milk) • Dried egg yolk • Whey powder • Natural flavour • Sodium bicarbonate • Modified corn starch • Sodium acid pyrophosphate • Modified potato starch • Salt • Sodium stearoyl lactylate • Guar gum • Lactic acid • Dried whole egg. 
Contains: Wheat, Milk, Egg